We had 2 sessions that day, we played (lost) a few games in the afternoon and had(won) some few others in the night. But oddly enough, i didnt have much fun in any of those matches, whether we were winning or not. Ah nevermind, here are the (some) reports.
1st match, dead's
Kappa spike. First time we face the build. First time we lose to it too. They just kept spiking us over and over again. Gg to them. -2
2match, uncharted
Korean guild, they had danjang from Evil and taegeuk from isis. They ran a split build with some eles in, the match wasnt really hectic. We countered their split attemps pretty well, and had a slight advantage at the flagstand, but in the end, i called a bad move: tried to rush into their base to hit the gl, but ive called for it too early. The monks couldnt handle the pressure, and they had time to strike back once we wiped. Gg to them, -3
3rd match, wurms
Sinsplit with a ranger, a shatterstone ele, 2 monks (1sod, 1woh), a smiter (melandru's resilience) and a rit. I dont remember much of the match. Seems like we were just running around to get some kills then and there while they wiped us. Gg to them, -3
4th match, burning
We had already met that guild, its the sway team with the trapper. This time we go for the 1st sentinel, but then our ranger decides to fail and just cant kill the 2nd one by himself. Meanwhile in our base, we scored 1 or 2 kills, but theres too much pressure. Once we rez i wanted to send the 2w, the rit and the ranger in the ennemy base, but one w didnt come, and we couldnt do anything in split because of a single monk. Gg to them, -3
After this epic run, we decided to take a short break and wait for the night to go in again. This is when val decided to drop in and say hi: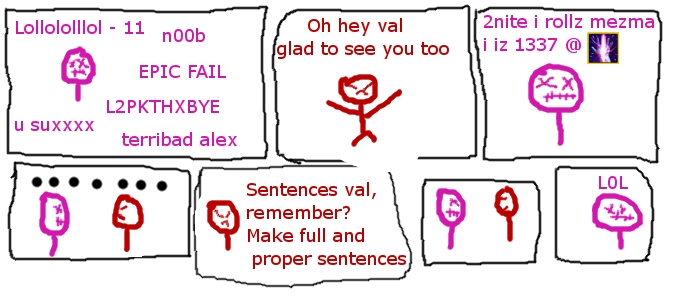 1st match, by the rivers of babylon [zion], r300, dead's
French guys, former top 100 players for most of them. But due to our monk not loading the map, we wont have the pleasure to face them. -2
I dont have a clear memory of the other matches, so ill just write a few words about each of them:
there was a byob guild, ryan's guild, running an illu mesmer, a shatterstone ele and a backbreaker sin. Guess there was a ranger a a w too. Quite boring a match, i spent most of it hexed and not killing stuff when i was clean. We ended up winning somehow.
There was a french guild, by the way we are[bad], with some nice players in (galam, scritch, kakei...). They ran a super cool build with 4 w, 2 rangers and 2 monks. We just kept running around and killing them.
Last match was super boring. Though at the beginning we pushed really hard on the woh monk, we couldnt kill him because of an impromptu weapon of warding. Im getting spiked while frenzying a few secs later, and the rest of the match is not worth telling it. Our ranger went afk, and we didnt do any damage, while they were spiking our monks again ang again. gg to them.
To lighten my mood, ive made another cool pic: