Guess we're still going down. It's been 2-3 days since our last victory, or even the last time we played semi-decently. Anyway, at least yesterday, i had a little fun, so here are the reports:
1st match, deads
Super split build with illu mesmer, mel derv, water mesmer, fire ele, ranger... We had a terrible communication and flag management, but we managed to score some kills then and there. Which was pointless given our unability to prevent them from boosting over and over again. Anyway, the 28th min is on its way, they dealt some damage on our guild lord, so we just rushed into their base. Even though i do some cool straffing against the archers pin downs (yay), i just die alone, before my axe comes any close to their gl. GG to them, -2
2nd match, warriors, r460ish
Balanced build. We re under super pressure because of their ranger spamming incendiary, while we cant kill anything because of a poor coordination between the frontline and the midline. At one point they try to split, and we just wipe them. At another time, we pushed them hard. And somewhere else in the game brutel dc'ed. When he's back, we send the ranger for a solo gank, while we get wiped in front of our base. I want to bodyblock them at the gates, so they cant reach the gl, but we fail, and pouf! Gg to them. -?
Then val stepped in, coming, god only knows from whose bed.
3rd match, burning,
Spike build with some dancing daggers sins and necs. Given the build and the team configuration, i wanted to take the sentinels down, so we could split as a last resort. But we went for a 5/3 split right at the beginning, and we failed on both sides. We chain died in our base, and we didnt do anything in split. Gg to them, -3
Following a part of the discussion between me and val: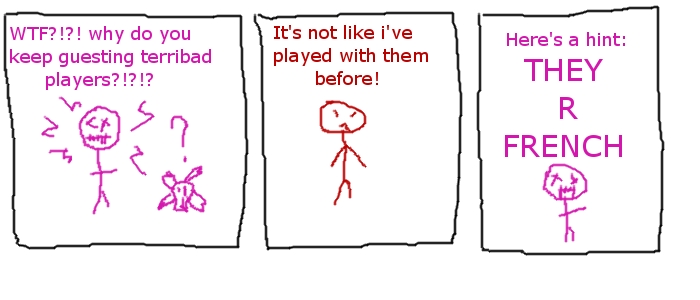 Alas, the worst was yet to come, since we guested more french dudes!
4th match, deads
Spike build with 2 eles and a pblock mesmer.While l'ancestre landed some pblock on them(though a bit late maybe), our ranger seems unable to rupt an ele, leading to a perma blind/blurred/snared on our frontline. Meanwhile the monks just went for some sightseeing, hence the deaths. We ended up resigning.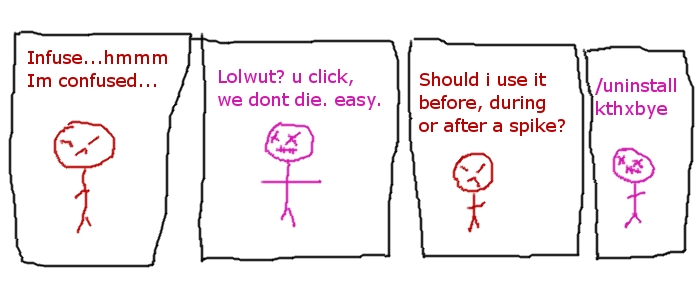 5th match, frozen, r1k
They ran a weird build with a cruel spear paragon, and other fun stuff i cant remember. Though we had a chaotic beginning, we killed them at the flagstand while our ranger went into their base. We then pushed and though they tried to split once or twice, we won! Hyhia!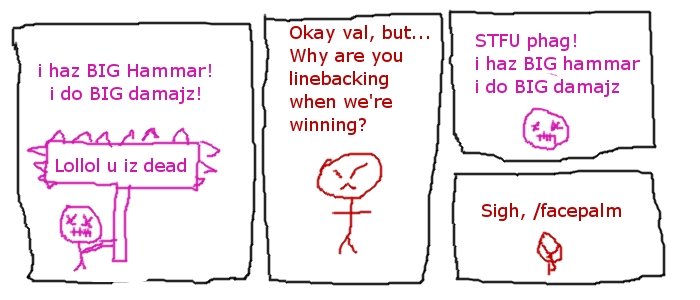 6th match, uncharted, r3k
Quite boring a match, they splited and we were waiting for our split team to win so we could push in: we didnt do anything at the flagstand (see the pic). Finally we pushed into their base and began to wipe them when.... well, i cant think of any word to describe what happened next. They went for a gank, and NOBODY said anything about it. Even when the bodyguard was going down, it took us ages before reacting. Well, what was to happen happened. We lost.